Did you know?You can still be productive when you're sick!
Sunday afternoon I got a horrible stomach ache because of something I ate for lunch.
I laid in bed listening to my husband and daughter play downstairs thinking about all the things I needed to be getting done.  I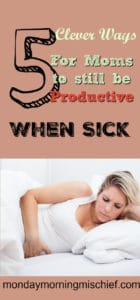 didn't have time to be ill.
Often when I'm laying in bed being unproductive, I scroll through Facebook.  The problem Sunday:  I took Facebook off my phone two weeks ago.  It has made me a better mom because if it.  I do still have Facebook on my iPad but sitting up wasn't comfortable, so that was out.
Even though I was tired, I couldn't sleep because my stomach hurt so bad.
Determined, I continued thinking about what I could do while still laying in my bed.
Audiobooks

I could listen to a book!  Oh man, I was so excited because while reading books is always on my *want* to do list, it rarely makes it to my priority list because of my current season of life.  There are so many other things that must get done: laundry, meal planning, taking children to and from school and activities.  You know the deal.  The list goes on and on.

I have Audible on my phone so that was the answer! I opened the app, found a book I've been wanting to read or listen to for quite some time (which was How to Talk So Kids Will Listen and How to Listen So Kids Will Talk).

Read a book

Alternatively, you could catch up on reading a book.  For me, reading versus listening to a book depends on how I'm feeling.  Sometimes, if you're feeling nauseous, reading will not feel good. But, if you're feeling up to it, reading a good is a great way Be productive when you're sick.

Organize digital photos

For me, it feels like organizing, deleting, and updating all the photos on my phone is a never ending task.  When you're sick and unable to get out of bed, or being in bed is the best place for you to be, this task is a great use of your time! Be productive when you're sick by using the unexpected available time to organize or delete those photos (and/or videos) taking up precious storage space on your phone!

Clean out email inbox

Before I became a mom, I definitely made it a priority to have taken action on all my emails *almost* every day.  Now, even just looking at the number of unread emails is enough to potentially cause me stress!

Watch a movie or catch up on a TV series

Since I'm not a TV watcher, this would not be on my personal list of to-do but it would certainly be a good use of time for a busy mom who desires to catch up on her favorite Netflix show or catch the latest movie.
Other posts you might like:
Join The Monday Mischief
Never miss helpful parenting tips, amazing resources and other valuable information.