Are you making the best use of your time?
It's true time never slows down. For me, and I suspect you can relate, the older we get, the faster it goes.  That's why we need to make sure you are making the best use of your time as often as possible.
PSA: I promise time does not slow down, it feels as if it moves faster, the older you get.
Time stands still for no one so the older we get, the more important it is for the following:
1. Make moments matter. One thing we all know for sure, as taboo as the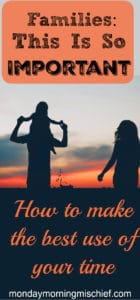 subject might be, our days living on earth are numbered. While I would benefit from this by being reminded more often, I believe there's so much to gain for us to live each day as if it were our last.
2. Surround yourself with quality people. A friend once said to me, and I will never forget because they're words I now live by every single day: "When you're questioning your friendship with someone, ask yourself: is this friend the kind of person you would want your daughter to grow up to be like? If your answer is no, you should end the friendship." Toxic friends are simply put, no good. Jim Rohn (a motivational speaker and self-help guru) says, and it's true, "You are the average of the five people you spend the most time with." Chose friends who build you up, not bring you down. Cut toxic friends from your life.
3. Turn your dreams into reality. Life is too short spending your life doing a job you hate. The adage is true: "If you keep on doing what you've always been doing, then you'll keep on getting what you've always been getting."
4. Don't put stipulations on being happy. We only have now which is a big reason you need to be making the best use of your time. If you put parameters on your happiness, I promise you're never going to be happy. There's always going to be something else you're looking for to reach happiness. Live in the now. Wake up and decide today is going to be an exceptional day. Do something kind for someone else. Here are some easy and great ideas to get you started. Another guarantee I'll offer: if you do something kind for another person, you will feel happy, too.
5. Strive to have less "stuff" — simplify your life. Having fewer material possessions will naturally create less stress, and if you didn't' know, stress is the number one cause of disease. According to Medical News TodayMedical News Today, heart disease is the number one cause of death in the US.Many people believe heart disease to be the number one cause of death in America. Well, that may be true, but STRESS is a cause of heart disease and many other illnesses.
You might also enjoy: How to Teach Children To Be Kind