Let's look at how to stop worrying; or at least what we can do to minimize it.
This weekend I watched Charlotte's Web with my daughter and it reminded me that sometimes I, and perhaps all of us, need a healthy reminder of life's reality.
I'm sure you're thinking, Shannon, what in the world are you talking about? Stay with me for a moment…
Doesn't matter if you've never seen the movie or it's been too long for you to remember the entire story.
The little runt pig, Wilbur was being entered into the county fair and this was his only chance to live. He had to win first place or his family would cook him up for dinner a short time later. His spider friend, Charlotte, went over to assess the pig next door at the fair and when Charlotte came back, Wilbur asked, "Should I be worried?"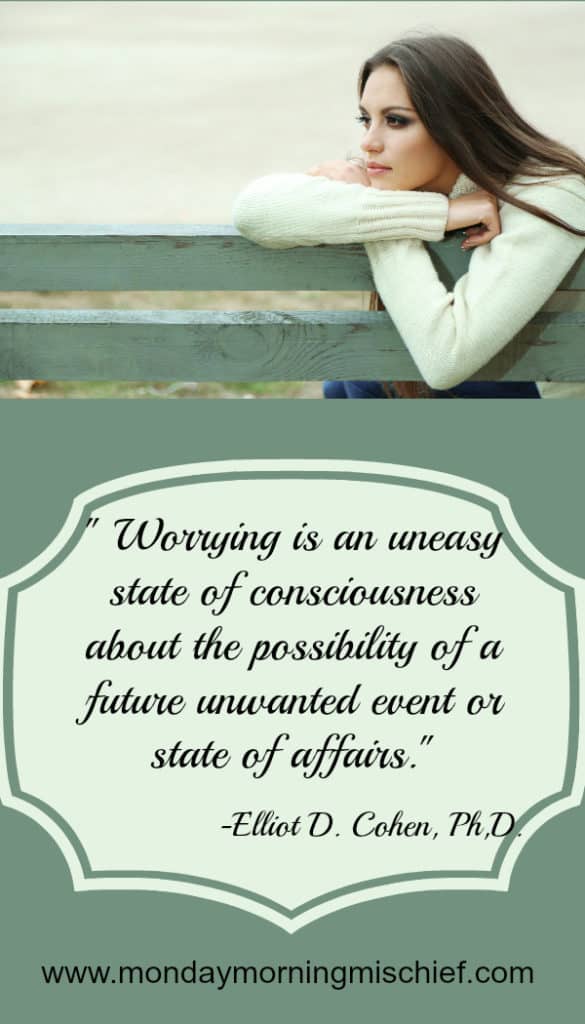 Charlotte's response was one we all need to be reminded of from time-to-time: "Of course not. What good would that do?"
Is there something you're worried about right now? Since becoming a mother, I am an obsessive worrier. And I mean, I worry about a LOT. In fact, this season of life, I worry about:
Am I making the right decision for my end of summer birthday child regarding when to start kindergarten?
Is my daughter or anyone in my family going to get a tick that goes undetected and they're going to get Lyme Disease (I have a borderline debilitating fear of ticks)?
Am I spending enough quality time with my family while trying to balance all the responsibilities being a wife and mother entails?
What if my daughter, husband, mom or step-dad walks out the door one day and I never see them again (death).
What will happen (emotionally) to my daughter if I die?
We need to figure out how to stop worrying because worry leads to stress and anxiety.
According to the American Psychological Association, stress is the number one cause of health problems.
Because I have general anxiety and recently have developed concerns for my daughter who has been showing signs of anxiety, I have looked into programs such as The Anxiety-Free Child Program, Turnaround Anxiety and/or professional therapy. While we are not at that point, I feel strongly enough that early intervention is key. The truth is that it's never too late to learn how to stop worrying.
Bottom line
If you want to know how to stop worrying, ask yourself if worrying is going to help. Like the spider said in Charlotte's Web
, "Of course not, what good would that do?"